Services
Aunt Lena | Stage Performances and Storytelling | Event Emcee information
Services available for families and children, adult-only events, and all audiences
Aunt Lena
Anne-Louise's famous alter-ego takes the stage!
Aunt Lena is the lasagna baking, lipstick smacking, raw wisdom-giving relative we all wish we grew up with. In this program, based on the long-running 'Aunt Lena Sez', Aunt Lena tells it like it is in a strangely endearing way that will have your group howling in no time. 
Through storytelling, music, and her inimitable style, Aunt Lena can cut to the chase on any given topic, and she certainly doesn't mince words and loves to give advice. Warning: Audacious Joy is contagious! Anne-Louise and Aunt Lena will make your event a resounding success.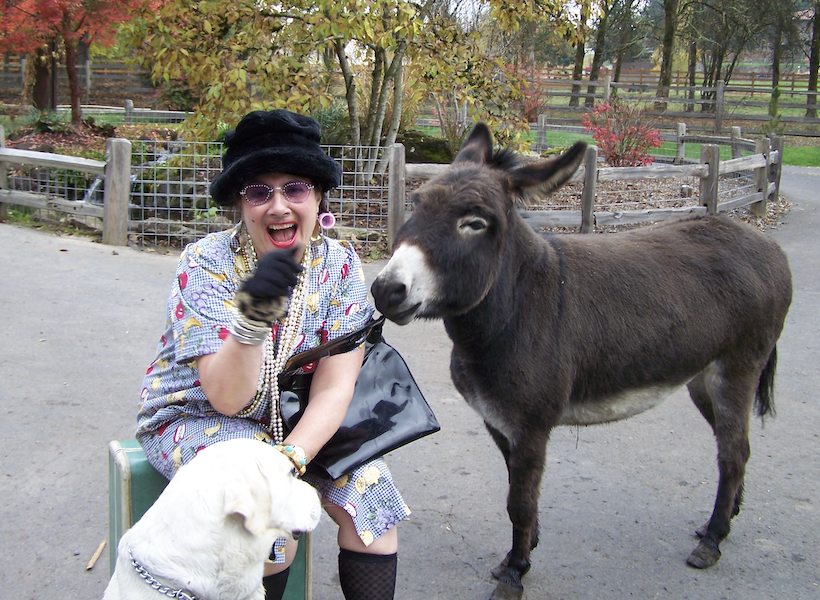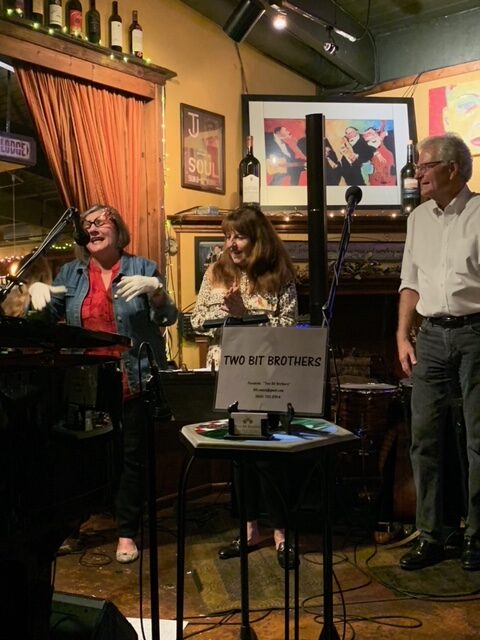 Stage Performances and Storytelling
Let's build the perfect program for your group
Stage performances and storytelling are two of the performing arts that Anne-Louise uses to build programs for adult groups or children and family audiences. On stage solo or accompanied by her ensemble, there are multiple arrangements to choose from.
If you need a high-energy performance to get your event moving on day one, browse these shows to energize and invigorate your attendees. Joined by one ordinary Englishman, you'll learn what happens when Italian Exuberance meets English understatement and sangfroid. Let Anne-Louise, Bob, and Aunt Lena send you on your way relaxed and laughing.
Whether you would like a concert, a song gathering, or an open mic, Sterry's gift for building rapport and creating a community will create a memorable evening for your guests.
Most programs are custom built to fit your agenda and goals for the event, read about the services available to build your ideal performance to learn more.
Looking for an Emcee for Your Event in OR?
Does your gathering in Oregon need an Emcee? Someone to keep things moving with grace and humor, and make sure your event stays on time?
If you are hosting an event in Oregon and are looking for an MC, Anne-Louise is a perfect choice. As a local performing artist, she understands the value of keeping the show running on time. Both for the artists' performances and for your audiences' attention span.
With experience in organizing events and performing in them, Anne-Louise has the skills to help you create a smooth, enjoyable experience.
Anne-Louise Sterry, either as herself or as her inimitable alter ego Aunt Lena, will provide the structure and balanced presence a smooth and effective event needs. Whether your event is serious, lighthearted, comic, or anywhere between, an effective host or MC can make a huge difference to its success.
Ensure your guests walk away with the best possible experience. Connect with Anne-Louise now to book her as an emcee for your gathering!
Fabulous! She was the best emcee of any conference I've been to anywhere in the world … and I've been to a number.
Funny, and entertaining, kept us on time with grace. Very, very well done – and so professional! Loved it.